Explorer-a recumbent trike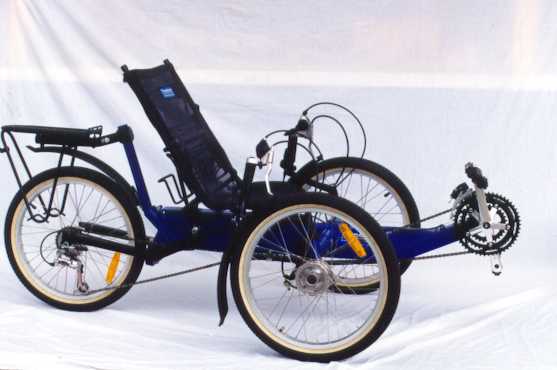 The "Explorer" is a tadpole style recumbent trike with "king pin" steering and rear suspension. It is stable, has a high ground clearance and its ergonomic seat is set at a height which makes it as easy to get into and out of as a comfortable chair. Although it is designed for riders of all ages and abilities, its easily accessible seating position makes it especially suitable for people with restricted mobility or poor balance. The "Explorer" can be fitted with a variety of racks enabling it to be used for everything from shopping to quiet leisure rides to substantial tours. The relaxed seating position is adjustable for leg length and the frame will accommodate riders between 165cm and 205cm.
SPECIFICATIONS:
FRAME: Pulse TIG welded 6000 series aluminium and cro/moly. SEAT: Cro-moly tube, UV-resistant mesh cover, adjustable for leg length. COLOUR: Flame red powdercoat frame with black seat, swing arm and stub axles. HANDLE BARS: Aluminium with cro-moly steerer. FRONT HUBS: Customised Sachs VT 5000 drum brakes (caliper brake version is available). REAR HUB: Shimano acera. (Sach 3x7 rear hub available) CASSETTE: Shimano 11-34, 7sp. RIMS: Velocity triple V. SPOKES: DT stainless steel 14g. TYRES: Duro skinwall semi-slicks. GEAR SHIFTERS: Shimano 7 speed. REAR GEAR: Shimano acera. CHAIN: Shimano IG 50.
Alternative custom specifications, brake options or colours available on request. Accessories such as mudguards (fenders) or pannier racks are available.
*The "Explorer" can be purchased as a frame kit by homebuilders. The kit contains: frame, stub axle and drum brake assemblies, chain guides, handlebar and stem assembly, seat, seat cover and fittings (standard bicycle parts are required for completion).
TRIKE RRP : $ 2250 AUS FRAME SET RRP: $ 1550 AUS
(All prices are in Australian dollars and subject to change without notice)